Slotted Angle
Adarsh slotted angle helps you build an efficient framing system for a variety of uses Slotted Angle is the most versatile, time and cost effective construction material available for building shelving, cases, racks or any other type of structure.
Scientifically designed pattern slots are perfectly positioned for bolting pieces together at various angles without needing to drill holes. No special tools required but our slotted angle cutter cuts completely through with one fast easy stroke. Available with painted or hot dipped, rust-resistant, galvanized finish.
These heavy duty bolts and nuts assure a strong structure for years of use.
Our range of slotted angle racks offer ample space for storing number of items in an organized manner. They are given a charming look with the use of perfect polish. We also offer these slotted angle racks in different designs and sizes as per the customers' demands.
Our Slotted angles confirms to the above noted IS specifications. Considering its multipurpose uses, we have reduce the distance between the holes, which increases the number of bolting positions in an angle, without effecting its load bearing capacity.
For any storage problem or if you want to adopt Latest Storage Technology and Supermarket display systems Feel Free to contact us ----- For any Query or Free estimate for your required storage and Display Problems and solutions Contact us - Happy to provide you a better Solution for Storage & Display
Size - 80 mm x 40 mm
Thickness : 2.50, 3.00 mm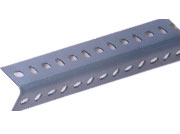 Size - 40 mm x 40 mm
Thickness : 1.60, 1.80, 2, 2.50, 3.10 mm
Size - 60 mm x 40 mm
Thickness : 2.00, 2.50, 3.00 mm
Shelves Standard Length
800 mm & 900 mm
Width : 225, 300, 375, 450, 600 mm
Partition Height
150, 225, 300, 375, 450, 600
mm Width : 225, 300, 375, 450, 600 mm
Corner Size
60 mm x 80 mm
Thickness : 1, 1.25 mm